Keep Your Lawn Free From The Piles Of Leaves with Fred's Landscaping

Lawn leaves removal is one of the most annoying chores, especially if you have several large trees or live near a forest. Leaves need raking, and they're not going to do it themselves. If not removed timely, they can cover your lawn, patio, and walkway, making your outer space look unappealing. If you can't do it yourself due to your busy schedule, the only option is to find someone else to do it for you.
Don't get caught up in the maelstrom of dead leaves and debris. We can help you get rid of them once and for all. Fred's Landscaping offers a complete range of lawn leaf removal services in Germantown, MD, including regular lawn maintenance and seasonal leaf-raking. We make removing lawn leaves fast, convenient, and easy! Get in touch with our expert landscapers today.
Call Us Today
How Our Landscapers Get Rid Of Leaves

Every year you have to battle the leaves and other plant debris when they fall from trees, bushes, and other landscaping plants. With our leaf removal services, your lawn will be clean in no time! Our reliable team will remove all the unwanted leaves from your lawn—no need to spend any more on rakes or blowers. We get rid of all of the debris for you while ensuring it goes somewhere safe for re-use at no additional cost!
We come equipped with all the tools and machinery needed to give your lawn the finesse it deserves. At first, we'll use mulching mowers and blowers to gather all the leaves and rake them in piles with the help of our scooping tools. Then, we'll clean your lawn b handpicking all the debris or branches left on the grass and the area around.
Seasonal Leaf Removal In Germantown, MD

With Fred's Landscaping LLC, you can get the most reliable leaf removal service near you in Germantown. We offer premium quality leaf removal for autumn and fall cleanup. Rest assured; we'll prepare your lawn for every season just the way you want. Fall and autumn are seasons when the temperature is dropping down. Because the growth slows down with the moisture in the soil, keeping your lawns free from leaves and debris will promote better lawn health.
We understand that you cannot blow the leaves from the plant and flower beds without damaging them. That is why we're here to do it for you. Whether you need progressive leaf cleanup or annual leaf removal, we are just a call away!.

We'll Help You Maintain Your Lawn

You want to get out of the house, go for a walk and enjoy the outdoors. What you don't want is to find your yard and patio full of dead leaves from the trees on your lawn! Everything is handled by certified professionals at Fred's Landscaping who know exactly how to remove dead leaves without damaging your lawn. Keep the green grass and have more time to enjoy it with our leaf removal services.

Dependable & Affordable Leaf Removal
Fred's Landscaping offers quality lawn services at very affordable prices. We collect and remove all the lawn leaves from your property whenever you need them. Our aim is to do the job right the first time! We aim at making your property looking lush and well taken care of. Our team works hard so that you don't have to do it yourself. We strive for perfection, so if you have any concerns, we'll address them on the spot. Regain the beauty of your lawn by giving us a call!

We Provide a Unique
Customer

Experience
Our goal is to satisfy everyone with a Great Maid Experience.
Fred's Landscaping did a fantastic job cleaning up our yard. We had years of leaves piled up. They made short work of what felt like a never ending task when we attempted to clear it ourselves. Fred was very knowledgable and gave us several options for a few other ideas we had. I would highly recommend their services.
Had an awesome experience working with Fred and his team. They were on time, delivered exactly what we had envisioned, and more. They went the extra mile by clearing out the sides of the property and the results looked fantastic. We unfortunately didn't take any before pictures, but the area looks wonderful and it was even completed early! Will be going back to them for any future landscaping projects, for sure!
I needed help with: - Over grown trees and bushes - Yard flood every time it rain - Front of the house looks like a hunted house with overgrown plants that were planted with no particular design Fred's Landscaping blew the competition to dust with his creativity, design options, and answering every question and best of all every call! What stood out the most is Fred genuine personality, professionalism, and knowledge. Project work included: - Concrete work - French drains installation - Trimming trees and bushes - Planting new plants and replanting and repositioning existing plants - Yard regrading and clean-up - Fountain installation - Exterior lighting. Results were amazing, Fred's Landscaping turned our house into a home! I Highly recommend Fred's Landscaping.
Provided free consultation. Gave us various options and suggestion for our needs. Work completed in a timely fashion. Happy with our landscape
Fred did an amazing job with laying down decorative stones and river pebbles to make my backyard deck area look clean.. Was very responsive to my inquiries, quickly assess the property for an estimate, and shared his opinions on my thought processes to ensure that I was happy With the end results. He also planted some beautiful some beautiful annuals around the property. The period we are so satisfied with his work that we have already begun the planning process for more projects. Great job Fred Andrew
Fred and his crew did a great job for us gettig rid of lilac bushes, planting a tree and relocating an evergreen bush. Very professional, exceptional value and very knowledgeable. Next time I need landscaping services I will definitely use Fred's Landscaping. Highly recommend this company.
Excellent experience with Fred and his friendly team. Easy to work with and share our design ideas as well. Fred really knows his plants/flowers and shares his knowledge about what works in the space and how to maintain the landscaping after. He was also mindful of our dog and cat and chose plants accordingly. Price was reasonable and done on time. Highly recommended.
Kristine Junker
2021-06-17
Fred has been caring for my yard for over two years. He and his crew have consistently gone above and beyond expectations. They cut, edge, and clean the area of clippings weekly. Even my patio looks great after they removed the weeds between the pavers. 😍
First time using them for spring cleanup and to convert a small area where grass wouldn't grow to river rocks with a border. The did a first class job. Very professional and we would highly recommend them.
Rhonda Campbell
2021-03-26
Fred and his crew were amazing. Fred kept me apprised of everything he was doing. He pruned my trees, pulled up dead and unwanted bushes, cleaned up leaves, mulched and mowed for a great price. He even got rid of snakes. Yikes! His crew was on time and cared for my yard like it was their own lawn. I really liked that they didn't rush. They took time to finish details. Most definitely will be my permanent lawn care crew. Thanks Fred!
Give Us A Review
Don't Hesitate to contact with us for any kind of information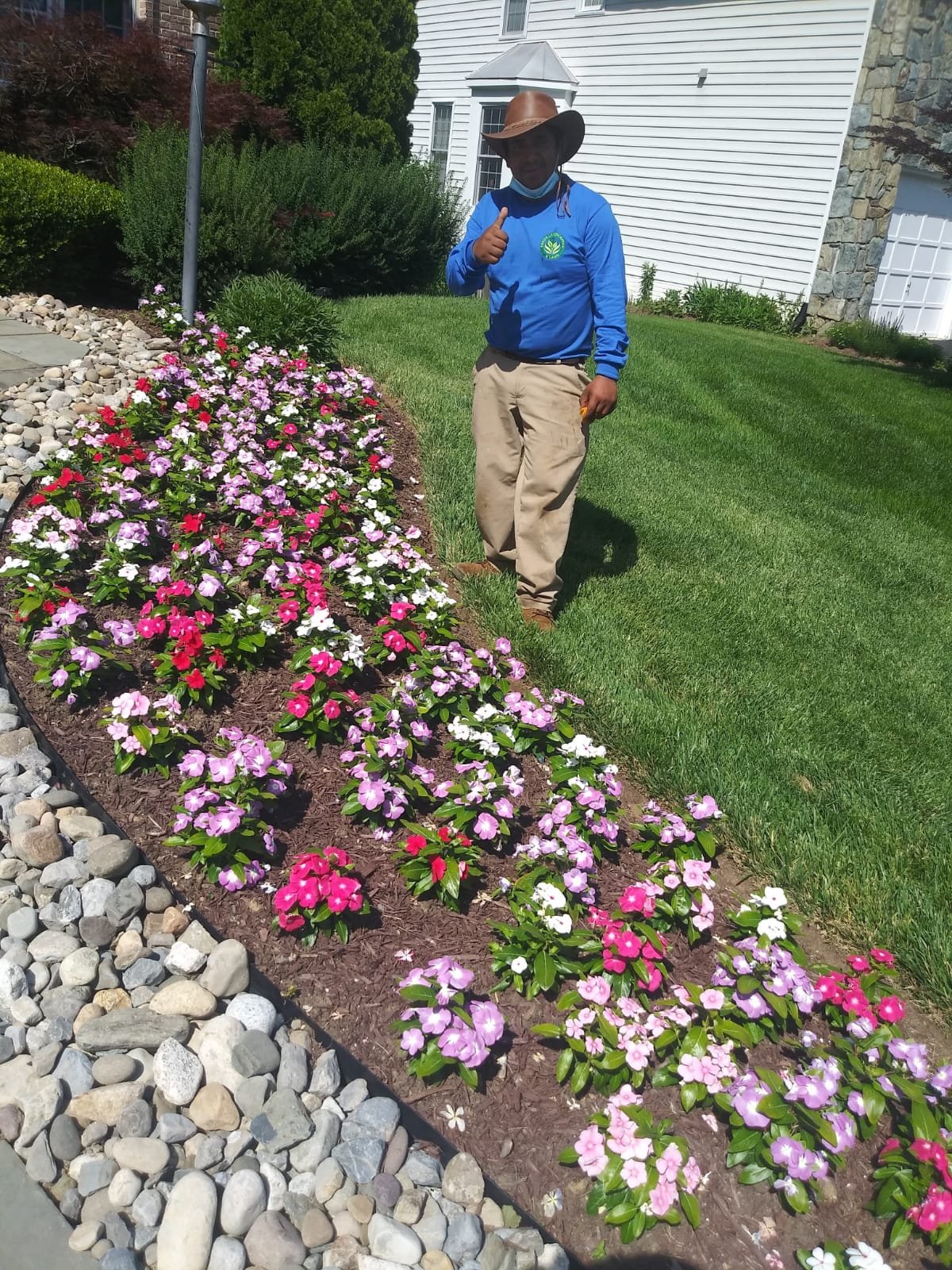 Contact us for a free quote
5 minutes of your time for a free quote, what are you waiting for?